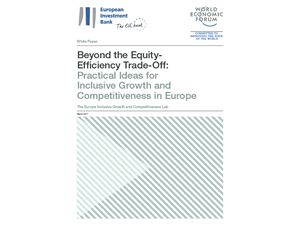 By: Enovating Lab
ENG
Comments: No Comments.
JON AZUA HAS PARTICIPATED IN THE RECENT REPORT PUBLISHED BY THE EUROPEAN INVESTMENT BANK AND THE INCLUSIVE GROWTH AND COMPETITIVENESS EUROPEAN GROUP OF THE WORLD ECONOMIC FORUM.
Last March 21st, was presented the "White Paper on European Inclusive Growth & Competitiveness"report as a result of the collaborative project of the European Inclusive Growth and Competitiveness Lab platform, formed by the members of Advisory Council of Competitiveness of the World Economic Forum, the European Investment Bank and Bruegel Think Tank.
The World Economic Forum has made of the Competitiveness and Social Inclusion one of the key challenges and priority lines of work.