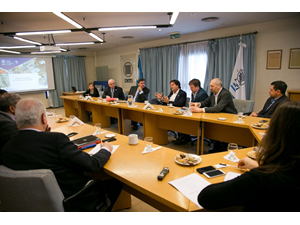 By: Enovating Lab
ENG
Comments: No Comments.
JON AZUA-ENOVATINGLAB HAS PARTICIPATED IN DIFFERENT WORK SESSIONS WITH THE GOVERNMENT AND ARGENTINE ENTREPRENEURS.
Invited by the Ministry of Production and the Institute of Industrial Technology of the Argentina, Jon Azua-Enovatinglab has participated in different work sessions with the Argentina Government and entrepreneurs in its debate on a new economic model and the Productive Transformation of the Country.
The presentation "The why and the what of a competitiveness strategy for the growth and inclusive development. Argentina: Take over their future", from the transformational strategy of the Basque Country over the past 35 years, served as a unifying thread of different seminars, conferences, and workshops taught by Jon Azua, focused in the general strategic transformation and in the specific impetus factors: a) The role of the Science Technology system in the competitiveness; b) Talent, Knowledge and Human Capital; c) Public-private convergent strategies in the productive transformation; d) Leadership, process, and critical vectors in the strategy, shared with the different actors involved.
The Argentine Government comes working in the reformulation of a transformative strategy, incorporating, to its line of debate, different successful experiences throughout the world, among which is the called "Basque Case".