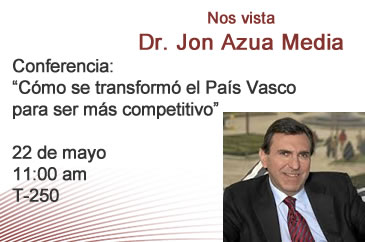 By: Enovating Lab
ENG
Comments: No Comments.
JON AZUA PARTICIPATED IN DIFFERENT ACADEMIC SESSIONS IN POPULAR AUTONOMOUS UNIVERSITY OF THE STATE OF PUEBLA (UPAEP), MÉXICO.
Thursday, May 22, Jon Azua participated in different academic sessions in the Popular Autonomous University of the State of Puebla, UPAEP (www.upaep.mx) of Mexico. As well, within the framework of his common collaborations with other institutions member of the MOC network of the Institute for Strategy and Competitiveness at Harvard University, and as a member of the Advisory Board of SINTONIA (www.sintonia.mx), gave the lecture "Relevant Factors for the Competitiveness and Prosperity of the regions", direct to more than 100 graduates from different MOC (Microeconomics of Competitiveness) courses and programs in their studies of post degree, to the academic staff and representatives of the business world.
In this line, he also gave extraordinary session corresponding to the analysis of the Basque Country Case as a strategy for economic development in the PEC (Strategy and Competitiveness Program) of the IESDE (www.iesde.edu.mx), to the Executive MBA students. Jon Azua has illustrated his exhibition with the lessons that brings the experience of Basque competitive transformation of the last 30 years, and has reviewed the key elements in competitiveness observed in the current scenario along the world, and specifically, the new critical elements that explain the behavior of companies, governments and countries in today's world.
Here, you can access to the presentation of the session given in the UPAEP, as well as to the Strategy and Competitiveness (PEC) program: