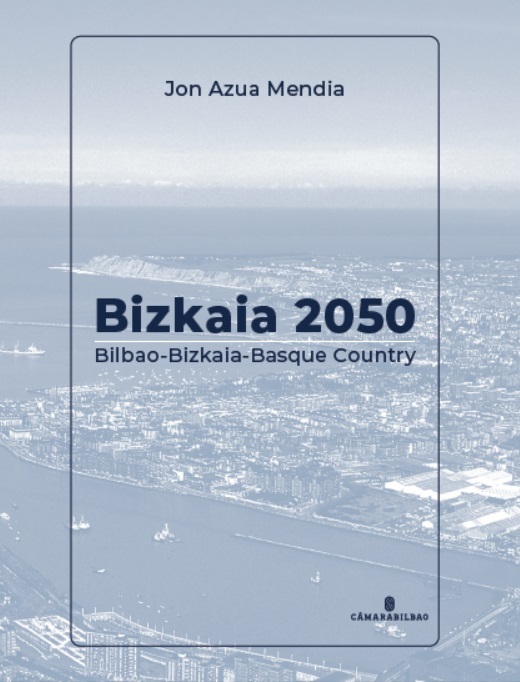 On the occasion of the 540th anniversary of the Consulate of Bilbao and the 135th anniversary of the Chamber of Commerce, Industry and Navigation of Bilbao, Jon Azua's book Bizkaia 2050 (Bilbao-Bizkaia-Basque Country) has been published.
Jon Azua imagines an innovative space for a 2050 scenario, desired, for the Basque Country, going through the icon of the Bay of Biscay, projecting its territorial expansion throughout the world, facing the challenges faced by today's Basque society.
The book starts with a journey from the access to the Basque self-government in 1.980 to ask the question: "How has the legacy been left until now?", assessing the relative and comparative success of what has been achieved, the "conceptual theoretical" support framework, from the hand of the competitiveness and prosperity model that reflects the so-called "Basque model" and, after analyzing the impact of the pandemic CRASH, it addresses a detailed analysis of the global mega trends, basis of the changes and challenges to face, identifying the "disruptive revolutions" that have to configure the innovative process to be developed. It concludes with 100 recommendations or areas of action that "should have been carried out" to achieve the proposed goal of success by 2050.
A rigorous combination of the essence of the strategy, of the competitiveness and welfare undertaken, demandable, of the disruptions and current uncertainty and of the recourse to imaginative "story telling", challenging and optimistic at the same time for a society that decides to take ownership of its future and commits itself to its achievement, of the responsibility and shared and solidary effort. The work collected here, provocative of a desired future for the Biscay-Bilbao-Basque Country of 2050, is of unquestionable reference and support for the reflection and strategic commitment of other regions and nations throughout the world.
Published in Basque, Spanish and English, it is here available for free download in PDF version, inviting the reader to dream a better future and make it possible.
BIZKAIA 2050: BILBAO-BIZKAIA-BASQUE COUNTRY (Basque)
BIZKAIA 2050: BILBAO-BIZKAIA-BASQUE COUNTRY (Spanish)